Filter by Category
Travel
Road Trip: Boston Flower Show
with Jim Palmer

Mar 17, 2018 at 7 am
Join other area Adult & Community Education program participants on a road trip to the 2018 Boston Flower & Garden Show!
Enjoy the beautiful gardens and exhibits at the 2018 Boston Flower & Garden Show at the Seaport World Trade Center in Boston. The show will feature garden writers, landscape professionals, Master gardeners, local chefs and many venders along with instructional workshops and demonstrations.
The $79 includes roundtrip motor coach transportation and admission to the show!
Interested parties, much pay online or by check, to be received by Friday, March 2nd. We would meet at Oak Hill High School and drive together in the district van to meet the motorcoach at Exit 49, off of 295, park n ride.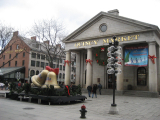 Road Trip: Quincy Market
with Jim Palmer

May 12, 2018 at 7 am
Get your friends together and come join us for a one-day trip to Boston on Saturday, May 2nd.
The $79 fee will include roundtrip motor coach transportation to Quincy Market. Once there, you will have 6 hours to tour the City, visit historical sights, go shopping or dine at restruants of your choice and at your leisure.
You do not have to worry about paying tolls, driving down and back or finding a parking spot in the city!
Space is very limited, so register early if you are interested.
Interested parties, will car pool in the district van from Oak Hill High School to the Exit 49 Park N Ride (off of 295) to meet the motorcoach.