Filter by Category
For the Family
"ME Suicide Prevention Program"
with Laurie Cavanaugh

Jun 18, 2018 at 5:30 pm
"Maine Suicide Prevention Program: Education, Resources & Support - It's Up to ALL of Us"
Presented by Laurie Cavanaugh, CPSP, Regional Parent Support Coordinator
Suicide is a significant concern in Maine and nationwide, but we can do something about it. Come learn more about what you can do to prevent suicide. The goals of the workshop are to heighten awareness about suicide in Maine and beyond. Increate the ability to speak openly about suicide; provide information about the risks and protective factors associated with suicide, teach what warning signs and clues to look for; teach skills to intervene when concerned someone might be considering suicide; and provide helpful resources for participants.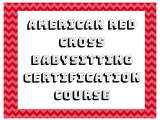 Babysitter's Class Series
with American Red Cross

Jun 15, 2018 at 2:30 pm

, runs for 1 week
Classes are open to boys and girls ages 11-15.
MIN 6 REQUIRED to hold the class, MAX 12 STUDENTS
This course teaches home and outdoor safety, basic caregiving, safe play, first aid, critical emergency responses, and leadership skills. Each class participant will receive an ARC child and infant CPR certification upon completion of the course.
This class is great for pre-teens and teenagers who are responsible for caring for younger sibling or those wanting to gain the skills to have babysitting clientele of their own.
Class series will be held at Oak Hill Middle School
Friday 6/15, Monday 6/18, Tuesday 6/19, Wednesday 6/20 & Thursday 6/21
Directly after-school 230-515P: RM 202
Cost is $90 (payment plans are available) per student!
Will run