Filter by Category
For the Family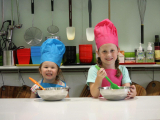 Kids in the Kitchen
with Deb Whitaker

Jan 28, 2019 at 3:15 pm

, runs for 3 weeks
This class is specifically designed to introduce kids to basic cooking skills while bringing math, language arts and science to life. Over the three week course, we will learn how to make flat bread dough as well as salt dough, homemade salad dressing and flavored popcorn seasoning!
We will provide all ingredients for each lesson and use some amazing Pampered Chef tools thanks to a generous donation by the OHHS Class of 2019.
Classes will be offered to 3rd-5th graders and held Mondays 1/28-2/11 directly after school at Carrie Ricker until 415pm.
Will run
ME Driving Dynamics
with Dale Gilbert

Jan 26, 2019 at 8 am
Highway Safety & the Maine Bureau of Highway Safety bring you the Driving Dynamics class (Defensive Driving class)! Earn 3 Pts toward your license by attending! Certificates provided at the end of class!
The Maine Driving Dynamics course is a driver improvement course that is aimed to improve a student's defensive driving awareness and abilities. This five-hour course includes discussion of collision avoidance techniques, safety issues, driver habits and attitudes, and the basic elements that constantly challenge drivers on Maine's highways. Our goal is to save lives, prevent injuries, and reduce vehicle-related crashes.
Become our fan on Facebook at: www.facebook.com/MaineBureauOfHighwaySafety
Pay online or at first class; cash, check/money order made payable to RSU4. Bring a bag lunch!
Saturday, January 26th 830a-130P
Will run
TABATA- Fitness (Session 2)
with Keena Sullivan

Jan 23, 2019 at 5:45 pm

, runs for 6 weeks
This is a NEW 6wk TABATA (High Intensity Interval Training) class!
Keena makes this class perfect for any fitness level, ability and age!
Join us at Oak Hill Middle School in the cafe
$45 for 6 weeks, or $10 drop in!