Filter by Category
Consumer Science (Cooking/Sewing/Budget)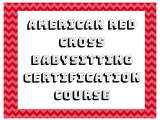 Babysitter's Class Series
with American Red Cross

Jun 15, 2018 at 2:30 pm

, runs for 1 week
Classes are open to boys and girls ages 11-15.
MIN 6 REQUIRED to hold the class, MAX 12 STUDENTS
This course teaches home and outdoor safety, basic caregiving, safe play, first aid, critical emergency responses, and leadership skills. Each class participant will receive an ARC child and infant CPR certification upon completion of the course.
This class is great for pre-teens and teenagers who are responsible for caring for younger sibling or those wanting to gain the skills to have babysitting clientele of their own.
Class series will be held at Oak Hill Middle School
Friday 6/15, Monday 6/18, Tuesday 6/19, Wednesday 6/20 & Thursday 6/21
Directly after-school 230-515P: RM 202
Cost is $90 (payment plans are available) per student!
Will run
Preserving the Harvest
with Cooperative Extension Educator

May 24, 2018 at 5:30 pm
Preserving the Harvest - A Hands-on Food Preservation Workshop
Ever wonder how to preserve all those garden vegetables? This hands-on food preservation workshop taught by UMaine Cooperative Extension volunteers and staff will teach you the basic steps for canning and freezing.
Participants will receive a "Perserving the Harvest" food preservation packet, and will learn recommended methods for preserving foods, the latest and safest recipes, about equipment to insure safety and how to check for properly sealed jars.
Please bring a potholder with you to the workshop!
Cost of the course covers materials and other costs of the workshop supplies and participant packets. *Scholarships are available from UMaine Extension to cover the materials fee.
Contact: Kate McCarty for scholarship details: kate.mccarty@maine.edu